Dan Robinson of Carp Baits Online Shares His Top Ten Tips on How to Set Up an Online Fishing Bait and Tackle Business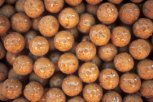 Bolton, Lancashire (PRWEB) February 15, 2013
Dan Robinson of Carp Baits Online (Established three years ago in Bolton, Lancashire) has been trading for almost four years now and in his own words 'Has made every mistake going, luckily they were all on a small scale and I've learned from them'.
Dan already had another business before starting Carp Baits with fellow director Andy Roberts. His other business involves designing and optimising eCommerce websites. In 2009 he teamed up with Andy Roberts (a web developer based in Bolton) and they formed Carp Baits.
"I always wanted to sell something online." said Sticky Baits supplier, Dan. After many discussions they decided to try bait and tackle as both are keen anglers. "As neither of us had any experience of retailing it was difficult in the beginning and we had to learn quickly" said supplier of Sticky Baits products, Andy.
Both of them bought online and apart from a few sites they found the experience was usually disappointing. "Lots of fishing tackle sites you buy off these days don't even acknowledge your order and often you get the standard automatic website message" said Sticky Baits stockist, Dan.
Fishing is the most popular participation sport in the UK and major retailers like Go Outdoors are taking an interest in this market. Sadly the days of the local tackle shop do look numbered unless they sell online, believe Dan and Andy.
Their top ten tips are:
1. Keyword research. Research the words people use whilst searching for your fishing products, we registered the domain name carpbaitsonline because it contained the phrases people were searching for.
2. Suppliers. Don't always aim for the major brands and try and find niche products. Search internet fishing forums where your potential customers visit and see what they like.
3. Web Designers. Make sure they are experts in eCommerce, contact the companies they've worked with and ask for their opinion.
4. eBay. There is a huge market for fishing tackle on eBay and it can be a very good starting point. At