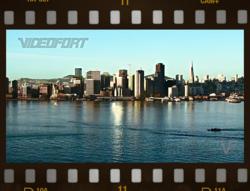 Hollywood, CA (PRWEB) June 18, 2013
Everyone knows that a picture is worth 1,000 words. In 2013, a minute of video is worth 1.8 million words, according to Dr. James McQuivey of Forrester Research. At that rate, VideoFort?s all HD stock footage video library of nearly 500,000 minutes is worth 900 billion words.
Research points to 2013 as the Year of Video. ?That is why the timing of VideoFort.com?s launch is crucial,? said Steve Gatena, founder of the Hollywood startup company. ?This year, Video is being recognized as the communication medium of choice. VideoFort?s debut comes at a significant time in the development of digital video production and high quality content creation.?
VideoFort.com has the research to demonstrate how video impacts online marketing. Here are some of the conclusions drawn from the ?big data?:
Web traffic relies on video.
By the end of 2013, 90% of all web traffic will be generated by video.
E-mail campaigns CTR nearly double with video.
Video in email marketing increases click-through rates by over 96%. In response, the number of marketers planning to use video in email campaigns has increased fivefold since the beginning of 2009.
Duration of Web site visits jumps.
A recent study found that web surfers spend on average 48 second on a website. When the site features a video, average time spent jumps to 5 minutes and 50 seconds, more than 5 times a text-based site.
Impact on SEO is dramatic.
Video SEO is 53 times more likely to drive a 1st page search result than traditional SEO.
?With all signs pointing to video, my partner and I saw that existing stock footage offerings fall short of serving the needs of video producers, advertising and marketing agencies, PR firms, and small businesses. Our approach is defined by three major breakthroughs,? outlined Gatena.
1)